Local Time
Timezone:

America/New_York

Date:

Aug 03 - 04 2022

Time:

7:00 pm - 8:00 pm
Next Event
Date

Sep 21 2023

Time

8:00 pm - 12:00 am
Date
Aug 03 - 04 2022
Expired!
Creative Space Song Camp – NYC – August 3-4
We are now booking for the Aug 3rd & 4th Creative Space Event 2 Day NYC Song Camp.
Our speakers and industry coach are locked in, and below is an updated agenda, read thoroughly and then submit if you are interested.
1 lucky attendee will have their name picked from a hat randomly to win a trip to Atlanta for our next Creative Space in late fall!!!!
Please check out the agenda and specifics below, let me know if you are in & if you have any questions.
Specifics….
-If selected, a registration fee must be paid to attend
-Producers must bring headphones, laptop, and any other production gear needed
-Songwriters must also bring headphones, laptop or tablet or pad & pen
-Masks are not mandatory but suggested, we have hand sanitizer & disinfectant wipes too
-Producers please get your session files after session on a flash drive or emailed
-If you want to release the records and your partners agree on splits, you may do so
-We will have complimentary water, soda & snacks for all attendees both days, Lunch day 2
-All creatives will have access to the MP3 version of hooks cut via google drive.
-All creatives will be interviewed and provided with a personal video to promote post event
-NO additional guests allowed due to space & safety control [Either day]
-The rest will be explained at the Day 1 overview of Day 2.
Check Previous event videos here
Looking forward to being Creative.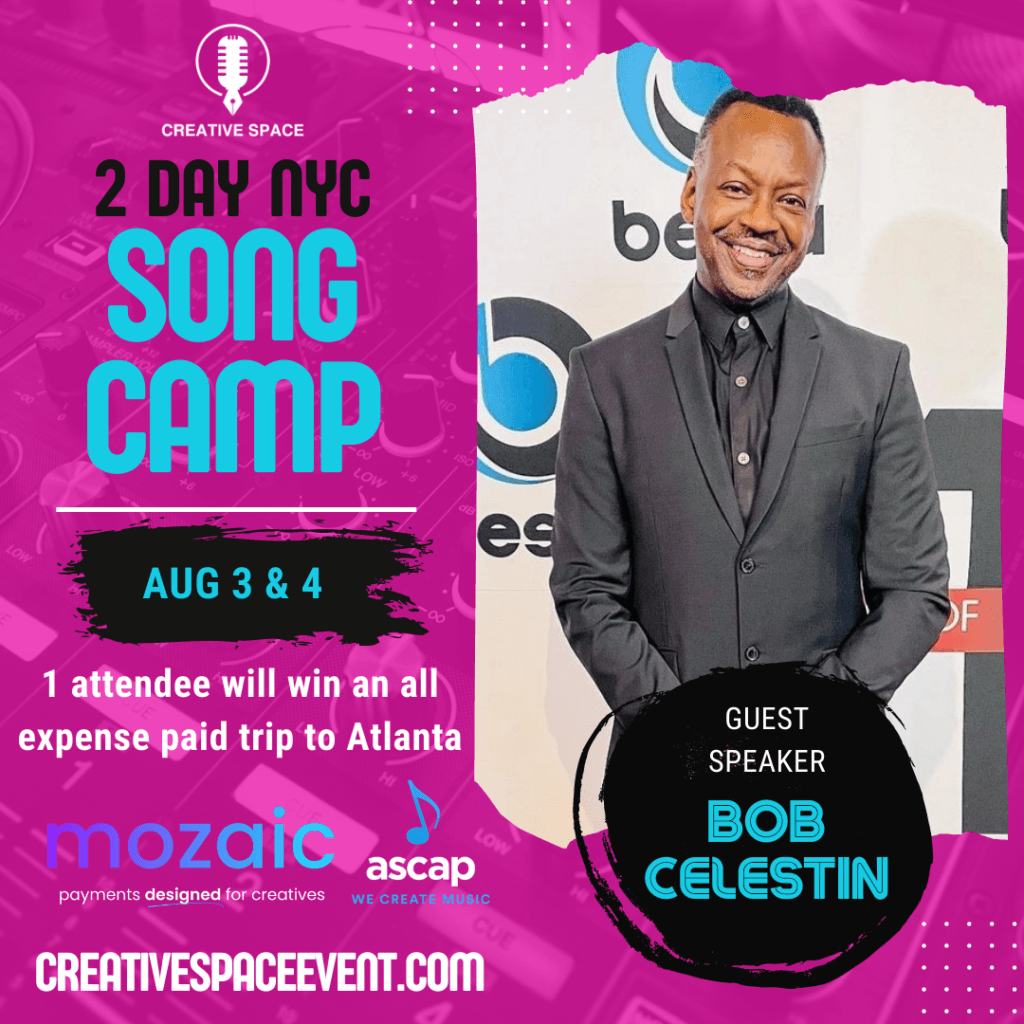 Hourly Schedule
August 3rd
7:00 pm

-

7:25 pm

Networking/Gift Bags
7:25 pm

-

7:30 pm

Basic Creative Space Intro
7:30 pm

-

8:20 pm

Copyrights, Contracts & Commitments Q&A w/ @bobcelestin
8:20 pm

-

8:30 pm

Break
8:30 pm

-

9:20 pm

Creative Branding & Online Beat Selling Q&A w/ @producerwhisperer
9:20 pm

-

9:30 pm

Break
9:30 pm

-

9:40 pm

Overview of Day 2
9:40 pm

-

10:30 pm

Press Play

[2 beat or song, hook, 2 min max]
10:45 pm

-

11:00 pm

Day 2 Creative Pairings Announced
11:00 pm

Leave Studio
August 4th
12:00 pm

-

12:30 pm

Check In
12:30 pm

-

1:00 pm

Pairings workspace placement
1:00 pm

-

3:30 pm

Industry Coach Intro w/ @kquickofficial and @iamalicaldwell
3:30 pm

-

7:00 pm

Lunch Break
7:00 pm

-

7:15 pm

Recording Sessions End
7:15 pm

-

7:45 pm

Press Play on all Hooks Recorded
7:45 pm

-

7:55 pm

Attendee Atlanta Trip & other giveaways
7:55 pm

-

8:00 pm

Group Studio Picture
8:00 pm

Leave Studio