Welcome to Creative Space, the Premier Song Camp for New Creators!
Creative Space Song Camp is a 3 day event with compartmentalized segments focused on education, creation & showcasing all while putting the emphasis on building relationships and personal networks. Song Camp takes place in LA, NYC, Atlanta, Miami, Dallas, Las Vegas & other cities TBA. Creative Space is also the umbrella for other Creator events.
"J Hatch!!! My Brother... Thank you for having me coach The Most Amazingly Talented Artists/Songwriters & Producers for your 2021 Creative Space SongWriting Camp. Definitely Looking Forward to the Next One"
"The song camp was incredible! So many dope creatives working together to accomplish one common goal."
"Community is everything in music and without it you'll never grow. That's why what Hatch is doing with his song camp is so important. Not only can creatives get advice from industry professionals, more importantly they can build a community of like minded people who will continue to push their art to new heights".
Yooo Producers!!! Are you ready for the STANDARD in beat battle
...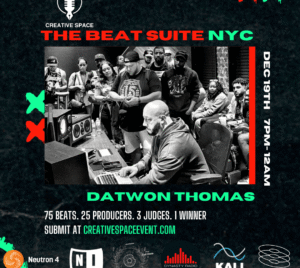 Our CREATIVE SPACE NYC 3-Day MEGA Camp will be on
...
Our CREATIVE SPACE Miami 3-Day MEGA Camp will be on
...
Our CREATIVE SPACE ATL 3-Day MEGA Camp will be on
...
No event found!
Are you ready to be creative?
The goal is to be competitive and forward thinking in the process of cutting these records. Think 2-3 years ahead of where you are now musically and sonically.