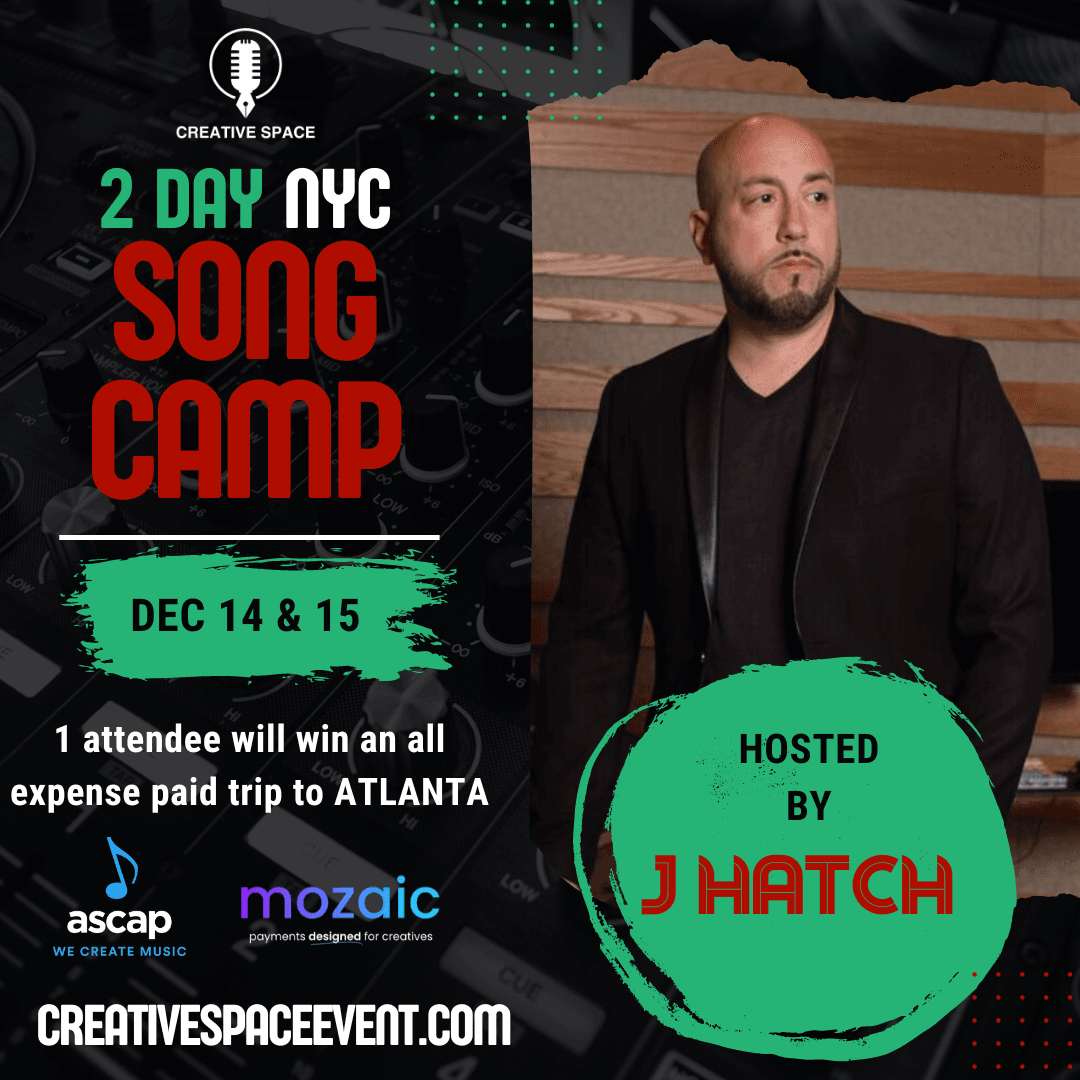 Local Time
Timezone:

America/New_York

Date:

Dec 14 - 15 2022

Time:

7:00 pm - 8:00 pm
Next Event
Date

Dec 08 - 10 2023

Time

7:00 pm - 8:00 pm
Date
Dec 14 - 15 2022
Expired!
NYC Creative Space Song Camp – December 14-15
The next date for our 2 Day NYC Creative Space is Dec 14 & 15th
Our speakers and industry coach are locked in, see below for agenda & info
1 lucky attendee will have their name picked from a hat randomly to win a trip to Atlanta for our next Creative Space in 2023!!!!
Please check out the agenda and specifics below, let me know if you are in & if you have any questions.
NYC Creative Space Specifics
If selected you will receive an acceptance letter with specifics and there will be a registration fee involved that will cover studio time, engineer, snacks and beverages both days, lunch Day 2, ASCAP Sponsored gift bag as well as a 1 minute personal video interview [you will receive your edited video post event as usable content]
Check Previous event videos here. We look forward to being creative!
NYC Creative Space Special Guests
NYC Creative Space Submission Form
Hourly Schedule
December 14th
7:00 pm

-

7:25 pm

Networking
7:25 pm

-

7:30 pm

Basic Creative Space Intro
7:30 pm

-

8:20 pm

Online Beat Sales & Brand Development w/ @ProducerWhisperer
8:20 pm

-

8:30 pm

Break
8:30 pm

-

9:20 pm

Mixing & Mastering Q&A w/ @breakitdwn
9:20 pm

-

9:30 pm

Break
9:30 pm

-

9:40 pm

Overview of Day 2
9:40 pm

-

10:45 pm

Press Play [2 beat or song, hook, 2 min Max]

[2 beat or song, hook, 2 min max]
10:45 pm

-

11:00 pm

Day 2 Creative Pairings Announced
11:00 pm

Leave Studio
December 15
12:00 pm

-

12:30 pm

Check In
12:30 pm

-

1:00 pm

Pairings workspace placement
1:00 pm

-

3:30 pm

Industry Coach Intro

[Platinum Producer for Justin Bieber, Diddy, Jay-Z & More]
3:30 pm

-

4:00 pm

Lunch Break
7:00 pm

-

7:15 pm

Recording Sessions End
7:15 pm

-

7:45 pm

Press Play on all Hooks Recorded
7:45 pm

-

7:55 pm

Attendee ATL 2023 Trip & other giveaways
7:55 pm

-

8:00 pm

Group Studio Picture
8:00 pm

Leave Studio